Chamber Music as a Videoconference
---
Context
Sunday, 17-03-2002,
Kuhmo Arts Centre, Pajakka Hall / Kuopio Music Centre, Chamber music hall
The 'Ihminen ja Kosmos' [Man and Cosmos] event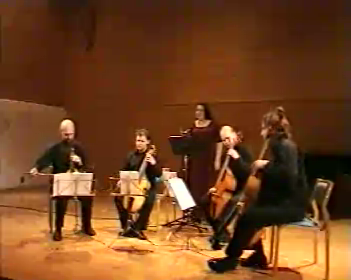 Program
Orlando Gibbons: Madrigals and Motets to Five Voices (1612)
An exact comparison between the source and target sound can be made by downloading the recordings below from the FTP server of the Sibelius Academy. Please note, however, that the received sound was recorded from a mixing console, which is the reason for the slight shift in the direction of the stereo picture. This error has no relation whatsoever with the APT equipment used in the experiment.
The following recording gives an idea, what the end result sounds like in case the video conference sound is relayed into a netcasted transmission. The following recordings where made by encoding the incoming signal into RealMedia stored on hard disk:
| | Kuopio | Kuhmo |
| --- | --- | --- |
| 1. The silver swan | raw | APT |
| 2. Fair is the rose | raw | APT |
| 3. Dainty fine bird | raw | APT |
| All three songs | | APT |
| The video stream only | | video |
The Gamba ensemble Unto-consort
The soprano Tintti Ekroth performs as vocal soloist of the ensemble.
Markus Kuikka, artistic director
Antti Nykänen
Jussi Merikanto
Teemu Rissanen
For more detailed information on the gamba ensemble please consult the home page of Unto-consort.
Description of the project
OV-Tuotanto from Helsinki is a partner of Virtuosi, which has specialized on IT related system development for commercial broadcasting. The company borrowed a APT BCF384 Broadcast Network Transceiver, which is normally being used to transfer radio programs over telecommunication lines. The unit was connected to produce the sound component of the videoconference concert. Instead of mono telephone quality sound, the unit achieved broadcast quality in a stereophonic setting. The delay of the video signal was measured manually. By delaying the sound signal at an equal rate the performance at the Kuopio Music Centre was communicated to Kuhmo in synchrony with the video signal.
Matti Ruippo, Ilja Donner and sound engineer Timo Haverinen were responsible for the technical realization at the Kuopio end point, while Kari Pulkkinen and the producer Philip Donner were responsible for the implementation in Kuhmo.